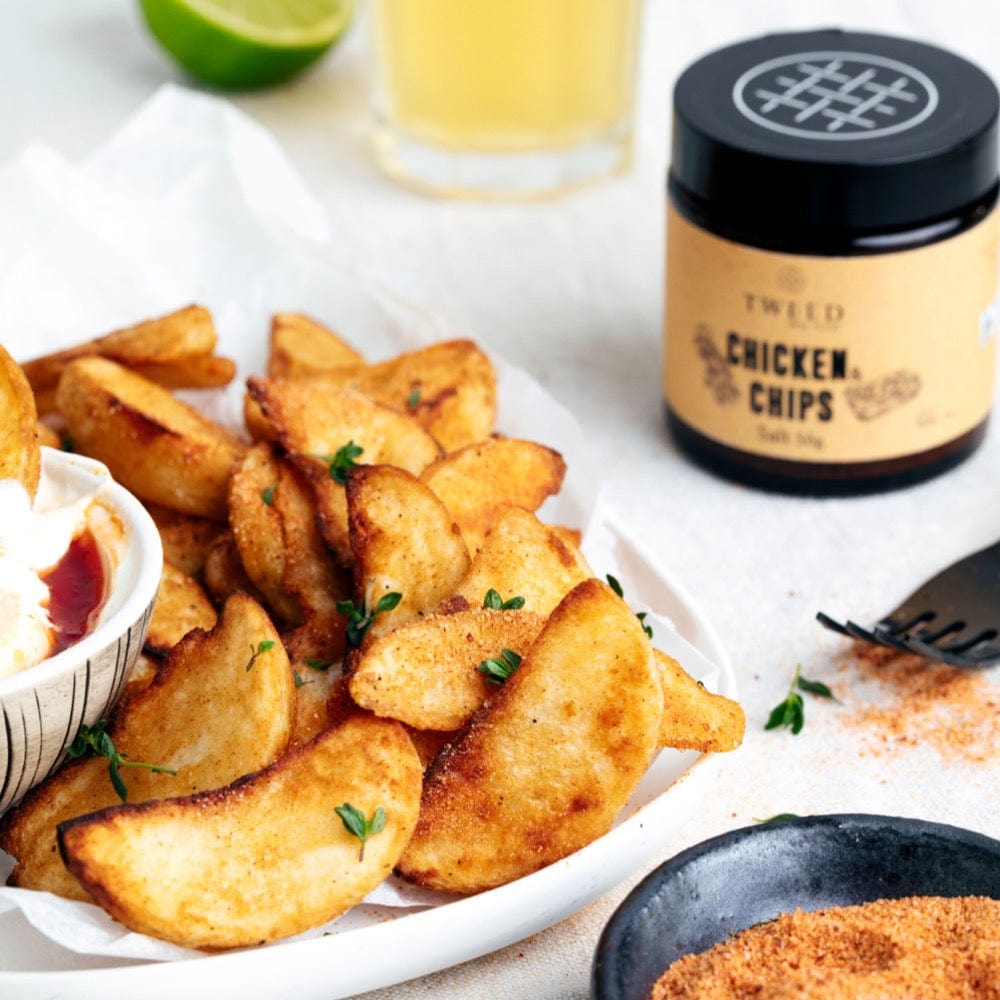 Chicken and Chips Salt - Bulk Satchel
Regular price
$31.35
Sale price
$26.95
/
---
Description

Ingredients & Nutrition

Frequently Asked Questions

Recipes

Best Before Dates

Shipping
"Chicken salt or plain salt?" This plant-based salt blend will quickly become your household favourite. Take your hot chips to the next level!
Sprinkle on your roast chicken and veggies, create mouth-watering potato wedges, pork crackling, soup broths and sauces the possibilities are endless.
100% Australian made and owned - From a Farmer to your plate.
Australian Sea Salt, Onion, Paprika, Garlic, Sumac, Celery, Mustard Flour.
May contain trace amounts of nuts.
Product of Australia • Made from local and imported ingredients • Store in a dark, cool place.
Naturally good for you - all-natural and plant-based ingredients.
FREE from Gluten, MSG, GMO, preservatives, dairy, soy, fillers, anti-caking agent, and additives.
Frequently Asked Questions
What is chicken salt made of? 
Commercial chicken salt is commonly made from a mix of ingredients including salt, chicken flavour, paprika, garlic, and several additives. Our plant-based Chicken & Chips Salt is designed to elevate almost any meal. It's made from a blend of Australian sea salt, onion, paprika, garlic, sumac, celery, and mustard flour. It's a moreish, healthy alternative with no additives.
Wanna know more about chicken salt ? Check our blog on chicken salt here 
Is chicken salt vegan? 
Ironically, most chicken salt on the market is vegan. Commercial chicken salt is typically made with salt, rice flour, additives, and spices, as well as onion, celery, and garlic powders. It's suitable for vegetarians and vegans. Our Chicken & Chips Salt is 100% plant-based and does not contain additives.
Is chicken salt vegetarian? 
Perhaps a little misleading in name, chicken salt is generally suitable for vegetarians and even vegans because there are often no animal products in the ingredients.
Our Chicken & Chips Salt is made of Australian sea salt, veggie powders, and spices. No gluten, dairy, preservatives, soy, MSG, or additives are necessary.
Ever wondered What is Chicken Salt?  Check out our Blog Here. 
Is chicken salt gluten-free? 
Gluten is not generally used in chicken salt. All our products and blends, including our Chicken & Chips Salt, are made with real ingredients to achieve real flavours, meaning they're free from added nasties such as gluten, preservatives, and additives. 
Avo Smash Dukkah - approximately 1 year
Salts, Rubs, and Seasonings - approximately 2 years
Balsamic Vinegars - approximately 3 years
* Please note that these dates are 'best before' dates and not 'use by' dates, if kept away from moisture and direct sunlight product will keep much longer.
FREE over $69.95

Please note: We currently dispatch within 1-2 business days, we can not guarantee any shipping dates .

Australia wide tracked shipping via AusPost, tracking information provided once dispatched via email.
Standard shipping:
Up to 500g: $8.30
Up to 1kg: $9
Up to 3kg: $10
Up to 5kg: $15
Express Post
Up to 500g: $11
Up to 1kg: $14.50
Up to 3kg: $17.50
Up to 5kg: $23