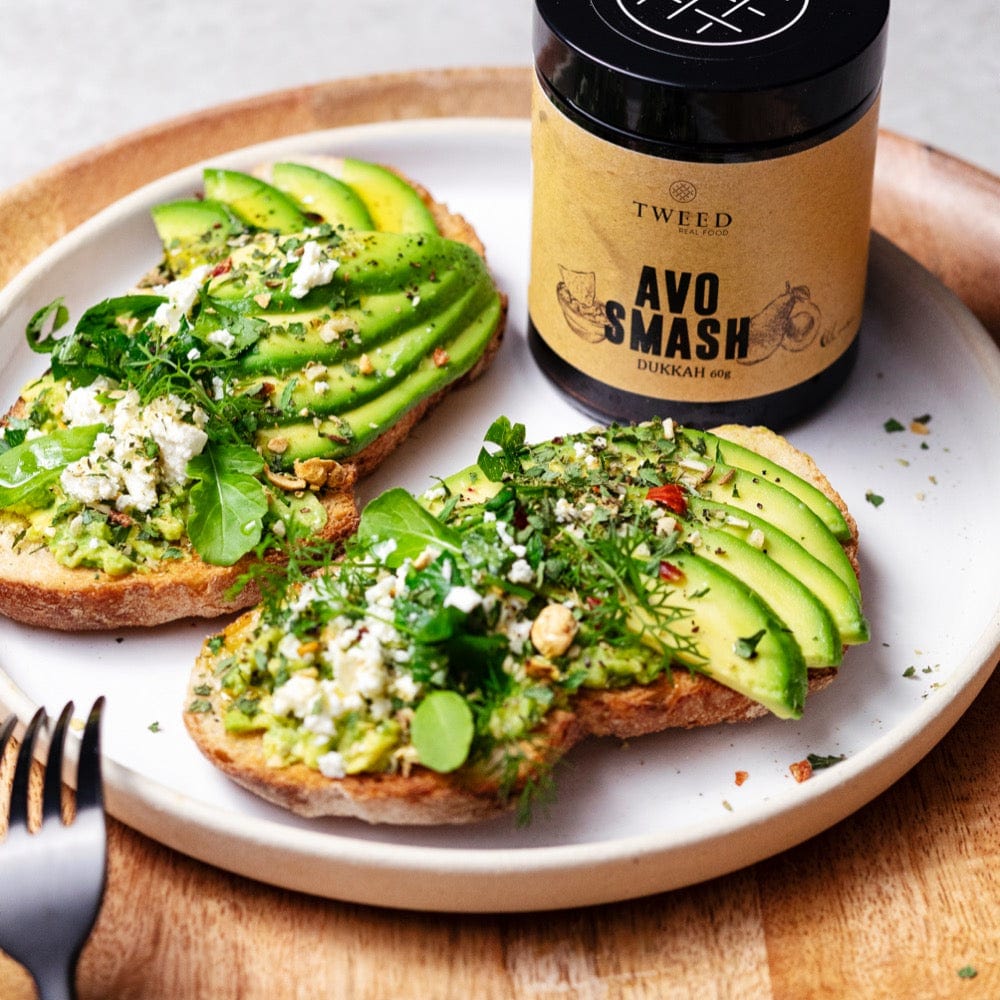 ---
Description

Frequently Asked Questions 

Ingredients & Nutrition

Recipes

Best Before Dates

Shipping
Have you ever dreamed of incredibly delicious Avo Smash at home? Every day? Well looks like your dreams just came true. Just mix a tablespoon of the Dukkah into your Avocado, add a splash of lemon/lime juice, a sprinkle of salt (Why not our Lime and Pepper Grinder Salt), close your eyes and ENJOY!
But it doesn't stop there. Avo Smash Dukkah is also perfect on your eggs in the morning, served with crusty bread, as a crust on chicken, salmon or lamb, to add crunch to your salad or vegetables and as a topping on homemade dips or crackers.
Avo Smash Dukkah gives a nut-free Dukkah experience with double-roasted chickpeas, pepitas and Australian Organic hemp seeds with undertones of cumin, chilli and pepper.
100% Australian-made and owned - From a Farmer to your plate.
Frequently Asked Questions 
What is in dukkah?
Traditionally, dukkah is a condiment of mixed herbs, nuts, seeds, and spices typically served with oil and bread. Dukkah can be dusted onto all sorts of dishes, and it can be combined with soft feta and oil to create a flavoursome dip. 
Our nut-free Avo Smash Dukkah is made up of roasted chickpeas, onion, garlic, pepitas, parsley, cumin, red capsicum, organic hulled hemp, oregano, black pepper, coriander, salt, and chilli. It adds a tasty crunch to an Avo smash or any other dish you fancy.
Is dukkah gluten free? 
Typically, dukkah is gluten free. It is a rich blend of herbs, spices, seeds, and nuts. There may be some brands out there adding flour to their dukkah, but our Avo Smash Dukkah is completely gluten-free.

Is dukkah keto? 
Since dukkah usually contains herbs, spices, seeds, and nuts, it's often appropriate for a keto diet. Our Avo Smash Dukkah contains roasted chickpeas, so it's not quite recommended for a keto diet, as legumes have a high carb content.
What does dukkah taste like? 
That depends! Each dukkah will taste a little different based on the ingredients that go into the mix. Mostly, it tastes of an aromatic, tangy, spicy, nutty blend. Our nut-free Avo Smash Dukkah is rich in flavours of double-roasted chickpeas and pepitas with powerful tones of cumin, chilli, and pepper.
How should I use dukkah? 
There are countless ways to use dukkah in the kitchen. For an unreal avo smash, mix the dukkah in with avocado, some salt, and a squeeze of lemon or lime. You could also toss dukkah in a salad, whisk it into a dressing, dust it over your eggs, fold it into whipped feta, stir it into couscous, sprinkle it over flatbread, or make a dukkah-crusted chicken dish. Our Avo Smash Dukkah is suitable for all these suggestions and more!
Roasted Chickpeas, Onion, Garlic, Pepitas, Parsley, Cumin, Red Bell Pepper, Organic Hulled Hemp, Oregano, Black Pepper, Cilantro, Salt, Chili.
May contain trace amounts of nuts.
Product of Australia. Made from local and imported ingredients. Store in a dark, cool place.
Naturally good for you - all-natural and plant-based ingredients.
FREE from Gluten, MSG, GMO, preservatives, dairy, soy, fillers, anti-caking agent, and additives.
Avo Smash Dukkah - approximately 1 year
Salts, Rubs, and Seasonings - approximately 2 years
Balsamic Vinegars - approximately 3 years
* Please note that these dates are 'best before' dates and not 'use by' dates, if kept away from moisture and direct sunlight product will keep much longer.
FREE over $69.95

Please note: We currently dispatch within 1-2 business days, we can not guarantee any shipping dates .

Australia wide tracked shipping via AusPost, tracking information provided once dispatched via email.
Standard shipping:
Up to 500g: $8.30
Up to 1kg: $9
Up to 3kg: $10
Up to 5kg: $15
Express Post
Up to 500g: $11
Up to 1kg: $14.50
Up to 3kg: $17.50
Up to 5kg: $23